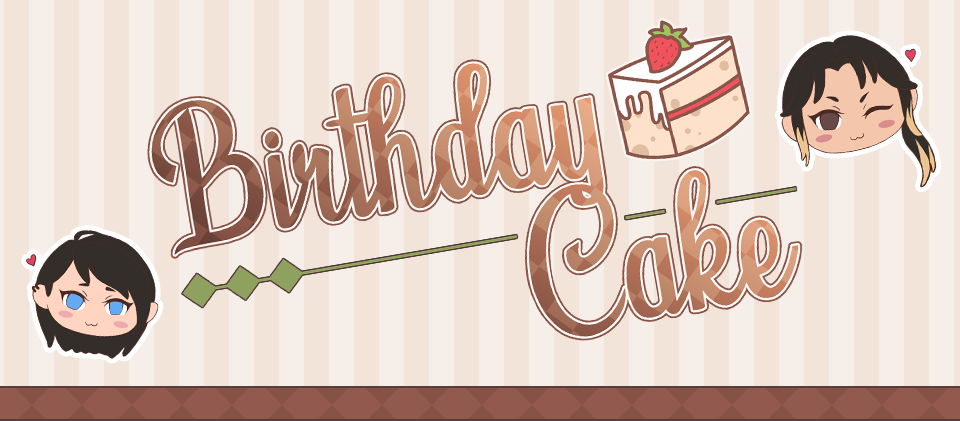 Birthday Cake (HIATUS)
Devlog #02 - Current progress
---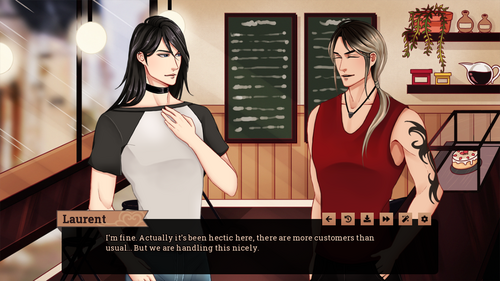 Hello everyone! One week after the release of "Birthday Cake" beta demo, I decided it was time to write a devlog with the project's current progress. I didn't expect so many people downloading the beta build and that makes me very glad to know that you are interested in this project!
Thankfully, progress is being kinda fast on this project, so I believe that it won't take too much until we have the complete version released. The original scope was expanded a bit but I still want to keep it small and simple, so I can actually deliver a finished game. Including too many details would make the project much more complex to do by myself, so I decided to not add too much ideas.
Let's see how "Birthday Cake" looks like right now!
Outline & Script
The outline is finally finished after some revisions. I wrote down all the scenes that I plan to happen, including choices and branching dialogues. The first idea that I had for this VN was extremely simple and had no extra characters besides Laurent and Jason, but after some thinking I decided to give them friends, and two new characters will appear in the finished game!
The script is currently on 4k words that covers about 35-40% of the complete plot, so I believe that the finished VN will have something around 10k words.
GUI & Coding
I edited the overall GUI to improve readability and make it more minimalist (as you can see on the screenshot that illustrates this post). I created buttons for the quick menu, included a splashscreen with my new logo and replaced the font for the titles and labels (it's all Roboto Slab now).
Mature Content
Since "Birthday Cake" is intended to be a cute story about two friends falling in love with each other, I wasn't sure if I should include +18 scenes on it. However, after some deliberation, I decided that I could include this type of content in a way that it serves the plot, without being merely fanservice. So, one of "Birthday Cake" endings will include uncensored smexy scenes that are unlocked if you make certain choices along the game.
Keeping in mind that not all players enjoy seeing such content, I implemented a Content Filter that will hide the mature scenes, so you can turn it on / off depending on how you want to play the game. The filter also hides any explicit CGs on the gallery, so you won't feel like the game is incomplete if you choose to turn on the filter.
Assets
Besides what you can see in the current demo, I also finished a CG and started working on the side characters' sprites. 8 backgrounds and 6 CGs are still pending, but thankfully the art is my favourite part of the project. My biggest struggle right now is drawing a female side character because I'm more used to drawing boys, but I'm gathering references to help me on this task XD
More music and sound effects are going to be added too, and I'm currently researching CC tracks that fit the story well.
I think that's it for now. Thank you very much for reading and for being interested on "Birthday Cake"! If you to see more frequent updates and works-in-progress shots, you can follow me on Twitter: https://twitter.com/akhayashiii
See you!