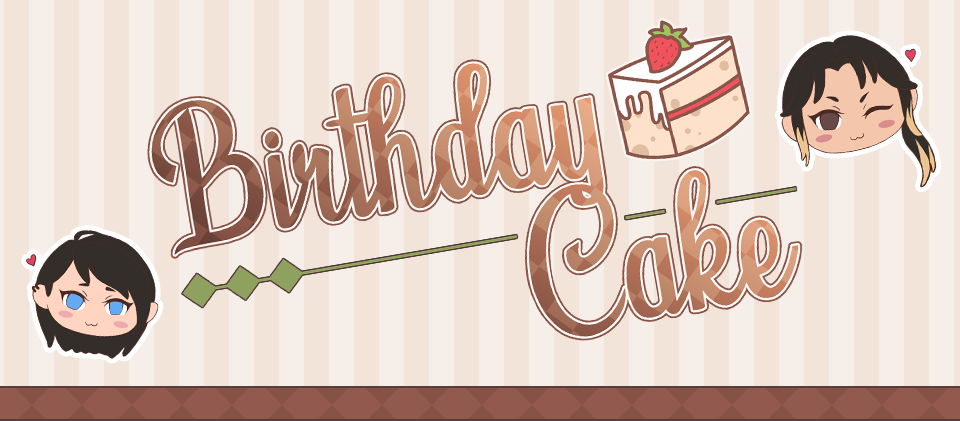 Birthday Cake (HIATUS)
Final Demo Available + Current Progress
---
The final demo for "Birthday Cake" is now available to download!
This demo covers the exact same events from the previous build, but everything in it is completely renewed. The GUI is fully customized, the sprites are drawn in a better quality and now we have a CG appearing in the first minutes of the game!
Now that I "finished" my project for Yaoi Jam, I'm focusing solely on the development of Birthday Cake. Due to some changes in plan, I'm rewriting the script in my native language to make it sound more cohesive and natural. It's far from perfect and I'm pretty aware of that (writing really isn't my favorite part from this project lol). I'm glad that at least the art and programming has been very smooth so far, since I really love doing these two things!
I still can't set a release date for Birthday Cake because my schedule this year is particularly crazy due to Covid-19. I'm still working from home but I can be suddenly called back to work on the office so I don't feel secure to give you any release date yet. Just know that I'm actively working on this project and I plan to release it as soon as possible.
So that's it, if you find any bugs and/or typos, please let me know! And thank you very much for all the support you've been giving to my work, it really means a lot to me and helps me keep going! <3<3
See you!~
Files
BirthdayCake-1.3-linux.tar.bz2
58 MB
61 days ago
BirthdayCake-1.3-mac.zip
53 MB
61 days ago
BirthdayCake-1.3-win.zip
54 MB
61 days ago
Comments
Log in with itch.io to leave a comment.
Hi, how much will the full version cost, if anything? :)
Eba! Vim direto quando vi a atualização.
Jason is so hot and the game is looking good! Keep up the good work!