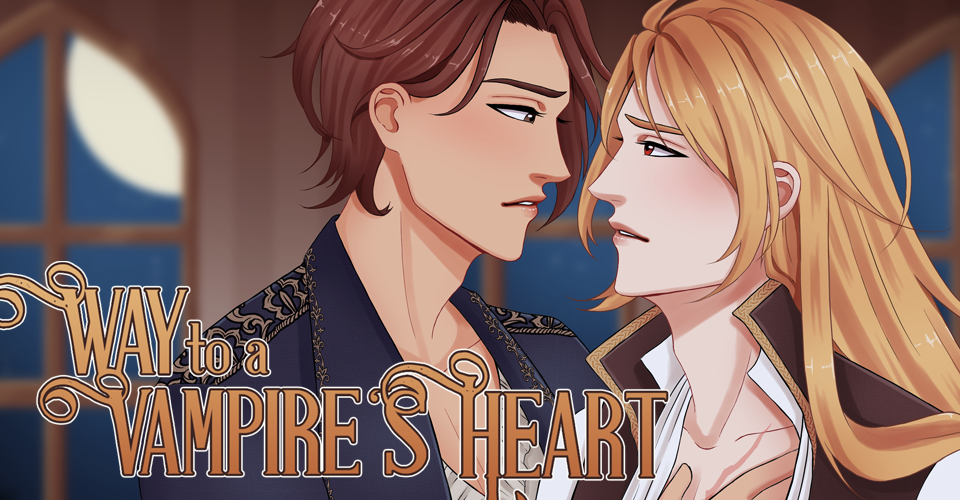 Way To A Vampire's Heart
Devlog 01 - Progress for the first few weeks
---
Since it's been two weeks after I started working on "Way To A Vampire's Heart", I think it's a good idea to share some progress about the game here!
As this story is more complex than "Birthday Cake", my goal is to release just its demo for Yaoi Jam. I want to make it as polished as I can in the span of time that the jam provides, so even though it's not a complete game, it's still a lot of work. Thankfully, it's been very smooth so far!
Writing: for now, the script for the demo has exactly 6.825 words. I want to write a little bit more until we reach a scene where we get to see more interaction between Lucian and Nikolas, so I believe the full script for the demo will have around 10.000 words in length. I received some tips on how to improve my writing from some people who played the demo for BC, and Gabmag is helping me with proofreading (the script got really better with her help!) So I believe the writing this time will flow better than on Birthday Cake's demo.
Sprites: the sprites for Lucian and Nikolas are almost finished, except for some expressions and the alternative pose for Nikolas. There are four side characters that will have sprites in the demo version too but they are still on the sketch phase.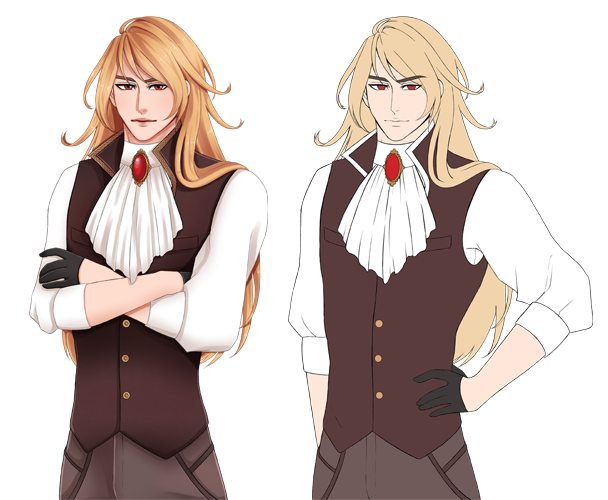 The two poses for Nikolas' sprite.
CGs: the demo will have two CGs for important scenes and one of them is already on the lineart phase. The other happens in a part that's not written yet, so I'll wait until I finish writing it before moving to the next CG.
Backgrounds: this time I'm using premade backgrounds for the game since they're a lot better than what I could do with my current skill level. Since it saves me a lot of time, I want to use this "free" time to do better quality sprites and CGs.
Audio: I'm using royalty-free music and sound effects for this game as well, and I was lucky to find some really good tracks by Incompetech. I'm still on the research phase tho, so maybe I can find more songs on other royalty-free sources.
GUI: I'm trying to make a custom GUI for the game, it's looking like this for now:
In the extras section, I included a "Endings" tab where you'll see a briefly description of the endings you got and a "epilogue" illustration. Of course in the demo the endings won't be available, but I decided to keep this tab so the players know that it will be present in the finished game. Also, the CG gallery has space for 12 illustrations now but I still don't know the exact number of CGs the finished game will have.
Overall, I believe it's been a good progress for the first two weeks! The fact that I was eager to start working on this game probably gave me an extra motivation boost. But for now I'm being careful to not burn myself out, so I take some breaks here and there. There's still plenty of time until the end of the Jam so I'm confident that I can do it on time!
For more frequent updates, please follow Hayashi Games on Twitter: https://twitter.com/HayashiGamesVN
Get Way To A Vampire's Heart